Striped Bass on Lake Texoma
Striped bass on Lake Texoma are back in full force after big floods last year!  Striper are an anadromous fish, so their upriver spawning migrations led some individuals to become landlocked during lake dam constructions. The first area where this was documented was at the Santee-Cooper River during the construction of the two dams that impounded Lakes Moultrie and Marion, and because of this, the state game fish of South Carolina is the striped bass. Recently, biologists came to believe that striped bass stayed in rivers for long periods of time, with some not returning to sea unless temperature changes forced migration. Once fishermen and biologists caught on to rising striped bass populations, many state natural resources departments started stocking striped bass in local lakes.
Striped bass still continues to exhibit upstream migrations from freshwater lakes during the spawning period. Landlocked stripers have a hard time reproducing naturally, and one of the few and most successful rivers they have been documented reproducing successfully is the Coosa River in Alabama and Georgia, and Lake Texoma in Oklahoma and Texas!  Lake Texoma Striper move upstream on the Washita and Red Rivers to spawn each spring.  Lake Texoma gets salty water from the Red River near Wichita Falls!  Striped Bass reproduce naturally in the high salinity water and creates a great fishery!
Captain John Blasingame, owner of Adventure Texoma Outdoors has chased Striper on this magnificent lake for over twenty years! Captain John catches Striper and White Bass on Lake Texoma with artificial lures, no live bait!  John will show you how to lure fish for Striper and put big ones in the net!  Give John a call and enjoy your Texoma Adventure today!  Don't forget to like us on FaceBook!
For more information on Fishing Lake Texoma, follow this link, Striper Time with Lake Texoma Fishing Guide
Summary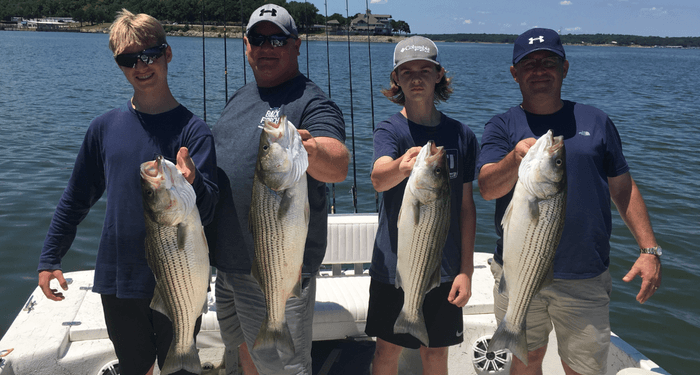 Article Name
Striped Bass on Lake Texoma
Description
Lake Texoma Striper Guide John Blasingame takes a close look at the Striped Bass on Lake Texoma.
Author
Publisher Name
Adventure Texoma Outdoors
Publisher Logo