Lake Texoma Striper Fishing Guide John Blasingame-On The Rocks
Early Spring Tactics for Large Lake Texoma Striper
On The Rocks with Lake Texoma Fishing Guide John Blasingame is not a new cocktail at your local Public House, but it's a great way to put big fish in the net!
Lake Texoma Guided Fishing Trips
Striper Fish On The Rocks with Lake Texoma Fishing Guide John Blasingame
On The Rocks with Lake Texoma Fishing Guide John Blasingame is not a new drink or bar, but a great early Spring Tactic to put BIG Striper in the net!  If you are an Artificial Lure Striper Angler, this blog post is a must-read.  We will discuss why Lake Texoma Striper move into the shallow water, and what lures we use to make these fish eat. We will also discuss what kind of structure to look for, and why Striper prefer some rocks over others.
Find out the best Lake Texoma Striper Fishing Lures to use in shallow water around the rocks, and how not to lose all your gear. Remember to subscribe to our RSS Feed and you will never miss a blog post from Lake Texoma Striper Fishing Guide John Blasingame.
Why Lake Texoma Striper Love The Rocks in Spring
We all know that Largemouth Bass Anglers are smart, so check out this quote from Don Wirth, 12-21-13, Bassmaster Article Winter Tactics for Small Lakes. "In winter, I target rocky areas first. Shallow rocks heat up quickly on sunny days, warming the water around them. Deeper rocks attract minnows and crawfish. A levee or earthen dam is a good place to start your search for bass in these small waters. Bass cruise riprap along the dam in search of a meal.
A light jig with a fat pork trailer is a good choice here — hop or swim it slowly around the rocks. A heavy jig tends to fall between the cracks, keeping you constantly hung up. Living weeds, if available, will attract bass as well, but Ingram doesn't catch as many big fish around them in winter as he does around rocks. Wood cover is your best bet in cold, murky lakes; bass hang tight to stumps and logs, where visibility is low. Pitching a jig so it bumps wood cover is a deadly tactic in water from 45 to 55 degrees."
You will find lots of rocks in the water on Lake Texoma and these rocks will absorb heat from the sun and warm up in the early Spring. The rocks are usually in shallow water, and the heat from the rocks warms up the water! " For common natural materials, the stones with the highest energy density (from high to low) are gypsum, soapstone, basalt, marble, limestone, sandstone and granite.
For common man-made materials used in construction, the stone with the highest energy density is fire brick, followed by asphalt, concrete and regular brick. Note that concrete made with basalt stone would have a higher energy density than one made with limestone." Source-Steven Colbath-Which Rocks Absorb Heat
OK, that's enough science lets simply point out that the sun comes out in the spring and warms the rocks that are in shallow water. The shallow water warms up faster than deep water and this temperature rise attracts threadfin and gizzard shad. The Striper and White Bass follow these shad into the shallow water and the game begins! The question now is how do we present lures to Texoma Striper in 1 foot to 10 feet of water?
Shallow Water Striper Tactics with Lake Texoma Fishing Guide John Blasingame
Here is a list of our Top Five Shallow Water Striper Lures for Lake Texoma!
1. 1/2 oz Road Runner Bucktail Jig (We add a soft plastic tail for action)
2. 3/8oz Underspin Jig Heads (Add a 4-inch Paddle Tail Swimbait)
3. 1/2oz Jig Head and 4-inch Sassy Shad
4. 1/2oz Tail Spinner
5. Alabama Rig with 1/16oz jig heads and paddle tail swimbaits.
Now we know to look for rocks and shallow water, how do we fish the Lake Texoma Striper Lures listed above? Remember the Striper are shallow so DO NOT crowd the rocks with your boat. Try to be somewhat stealth and cast to the rocks without spooking fish. Slow roll your Striper Fishing Lures! It's still cold so don't reel too fast on the retrieve. Picture your lures being retrieved down a staircase of rocks. Each step takes your lure deeper so slow roll that bucktail jig! You are gonna lose some lures, but the big fish payoff is worth it!
Cast your lures into 1 foot of water and reel as it hits the water. Let the lure settle until you feel the bottom, reel again, stop, let your bait settle to the bottom. You need to repeat this stair-hopping retrieve until you get to 10-15 feet! You are covering the rocks one stair or 1 foot at a time! The biggest mistake Striper Anglers make is casting into 1 foot of water and reeling the lure back to the boat in the same water column? As the water and rocks get deeper, let your lure make contact with the structure!
The Best Shallow Water Tactic by Lake Texoma Striper Guide John Blasingame
You need to cover shallow rocky water quickly and efficiently! The best way to do this is with a spinning rod and reel and a weedless swimbait underspin rig. You will be fishing 1 foot to 10 feet of water so a 1/2oz rig with a wide profile swimbait will work. We like the Strike King Model Belly Blade in 3/8oz with a 5-inch Paddle Tail Minnow! This rig will keep you from hanging up and covering water! Remember MOVE if you don't catch fish in 15 minutes. The angler who covers the most water will catch more and bigger Striper on Lake Texoma!  For more information please follow Lake Texoma Fishing Guide-John Blasingame.
About Lake Texoma Fishing Guide John Blasingame
Lake Texoma Fishing Guide John Blasingame owner-operator of Adventure Texoma Outdoors charter fishing service has been fishing the Striper Capital of the United States for over 25 years!  Captain Blasingame is the premier Artificial Lure only Lake Texoma Striper Guide and he fishes this Red River impoundment year round.  Lake Texoma Striper fishes great Winter, Spring, Summer, or Fall, so book your trip today!
Lake Texoma Fishing Guide John Blasingame
Corporate Office
132 Grandpappy Dr.
Denison TX 75020
PH 903-814-5566
john@adventuretexomaoutdoors.com
Contact: John Blasingame
MAP
Lake Texoma Striper Guide John Blasingame
Summary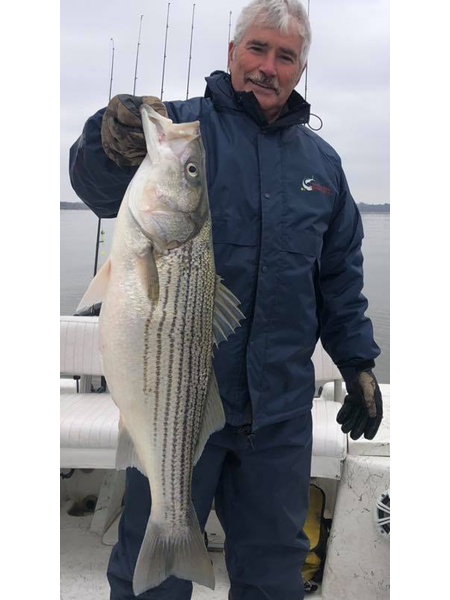 Article Name
On The Rocks with Lake Texoma Fishing Guide John Blasingame
Description
Learn how to Striper Fish the rocks on Lake Texoma with Guide John Blasingame.
Author
Lake Texoma Fishing Guide-John Blasingame
Publisher Name
Adventure Texoma Outdoors
Publisher Logo