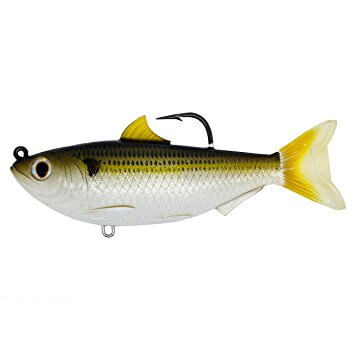 <p style="text-align: center;"><iframe width="560" height="315" src="https://www.youtube.com/embed/gaNEmPQUF3c?rel=0&controls=0&showinfo=0" frameborder="0" allow="autoplay; encrypted-media" allowfullscreen></iframe></p>
Top 5 Reasons Lake Texoma Fishing Guides Catch More Striper
The top 5 reasons Lake Texoma Fishing guides catch more striper will help you weekend warrior anglers catch more fish!  We like to start our Lake Texoma Fishing Report blogs with some eye candy, so pay close attention to the Live Target Swimbait video!  We find it very funny a weekend striper angler or weekend warrior will spend $ 60,000 on a boat, $ 3000.00 on a trolling motor, and $ 200.00 on a fishing reel to catch a ten-pound Striper Fish on Texoma, but declares a fishing lure is way too expensive?
Live Target Swimbaits
The Live Target Swimbait is the proper size, correct weight, and killer colors to catch a bunch of Lake Texoma Striper!  A quick FYI, Live Target does not pay me to write reviews or pimp their products!  We striper fish Lake Texoma 300 days a year, and when we find a fishing lure that works, we use it!  Now let's get to the top 5 reasons Lake Texoma Fishing Guides catch more striper!  We will start with number five and work our way to the number one reason Texoma Striper Guides catch more fish than weekend anglers.
Reason Number Five Texoma Striper Guides Catch More Fish, Simple Fishing Lures
Keep Striper Fishing Lures simple! We are one of the few Lake Texoma Striper Guides who fish lures only!  We respect all the Live Bait Striper Guides on Texoma!  They work very hard catching threadfin shad with a cast-net, then keeping the bait alive in a tank!  So live bait striper guides, we salute you!  Our cup of tea is artificial lures and Lake Texoma Striper!  We fish four basic striper lures on Texoma year round!  We change them up depending on the season!  The slab spoon lure has been around for 300 years and they catch a lot of big striper on Texoma!  A-Rigs or Alabama Rigs are very hot now and you can fish them deep on a slow roll or rip them back to the boat in the summer! Swimbaits are great and you will need them for A-Rigs! The pencil popper round out the list!
Reason Number Four Texoma Fishing Guides Catch More Striper, The Weather
Pay close attention to the weather weekend warriors!  Is it gonna rain?  When was the last full moon?  Has the wind been blowing out of the south for 5 or 6 straight days?  Did we just have a cold front?  That's a lot of questions!  Let's look at a few, like the wind direction on Lake Texoma and how it influences striper fishing!  OK, weekend warriors it's June on Lake Texoma and getting hot!  The wind has blown out of the south at 10 to 15 mph from Monday to Friday!  You are going to striper fish Texoma Saturday morning with your buddy!  Striped Bass will use the wind to school up threadfin shad, so look at STRUCTURE that is on the south or downwind side of Lake Texoma! Pay attention to the weather, it will increase your success rate catching striped bass on Lake Texoma!
Reason Number Three Lake Texoma Striper Fishing Guides Catch More Fish, Electronics
This one is easy and kind of expensive!  If you thought a $ 9.00 swimbait was expensive, try a spot lock trolling motor!  The most popular button on i-Pilot and Link? The one with the anchor on it. That's Spot-Lock, the game-changing GPS anchor. Just push it, and Spot-Lock uses GPS to lock your boat onto your fishing spot more accurately than anything else on the water. These are game changers, and will make you a better striper angler on Lake Texoma!  Fish Finders have come a long way since we started striper fishing Lake Texoma!  Split Screen, side imaging sonar will point out more striper fish than traditional units. Split-screen fish finders conduct a scan and let you see both side view and regular sonar view in split-screen! You'll see that many striper fish detected by the side imaging won't show on the standard sonar.
Reson Number Two Lake Texoma Fishing Guides Catch More Striper, Structure
Striped Bass love structure!  Striper will use structure to corner threadfin shad and make them an easy meal!  Most weekend warriors don't fish structure on Lake Texoma.  Anglers tend to monkey see monkey do Lake Texoma striper fishing!  Ohhhhh, look over there at all those boats!  Zoom, off they go to join a Lake Texoma Boat Show!  Look for humps, drop-offs, sandbars, and big boulder rocks that Texoma Striper love to use as ambush points.  Yes, you can catch Striper when they run large schools of shad in the middle of Lake Texoma, but find good structure and you will start putting big fish in the net!
Reason Number One Lake Texoma Fishing Guides Catch More Striper, They Move
I tell this to all of my customers and anglers I run into on Lake Texoma.  If you stop at a spot and are marking good striper on the graph, start fishing!  If you don't catch a fish in 15 minutes, MOVE to a new spot.  I see anglers fishing a spot close to me, then move 3-4 times and return to the spot I started.  The same angler is still there!  I ask are you catching Striper, and they say no?  Remember no Striper or White Bass in 15 minutes, find a new spot!  Cover water and find a school of Striped Bass that are ready to eat.  If you mark fish at spot 1 and do not catch anything move.  You may want to re-visit spot 1 later in the trip.  You might find the Striper on spot 1 are ready to eat!  For more information about Lake Texoma please visit Striper Time!  Thanks for ready our blog posts! 
Summary
Article Name
Top 5 Reasons Lake Texoma Fishing Guides Catch More Striper
Description
Lake Texoma Fishing Guide John Blasingame explains why professional anglers catch more fish then weekend anglers.
Author
Publisher Name
Adventure Texoma Outdoors
Publisher Logo