Treble Hook Removal and Fishing Safety
Treble Hook Removal is not a fun job, but Texoma Striper Guide John Blasingame knows fishing safety!  The best way to prevent a hook from injuring an angler is pinching the barbs down on ALL HOOKS!  That is easy to say and sometimes difficult to do!  We go through a lot of lures during a fishing season and order gear several times per year.  We get very busy and sometimes a slab spoon or jig head gets on the boat with barbs out!  We try to mash all barbs down for Fishing Saftey.  You may lose a fish or two, but keeping the pressure on a striper and zero slackline will bring the fish to the net!
Treble Hook Removal Techniques
There are several hook removable techniques, but we try to use string yank and advance and cut!  We like to keep some very heavy braid line (80 lb) on the boat with sharp Stanley 84-105 6″ Basic Diagonal Cutting Pliers!  Before we remove a hook from the hand lets first take a look at styles!  We will have treble hooks and single hooks that are on jig heads.  We do not live baitfish so these are the only hook styles we use!
Treble Hook Removal and Big Hooks
All of our striper slab spoon lures will have heavy 4X treble hooks.  All of our topwater plugs will have 2 and 3 Treble Hooks.  90% of our treble hooks in angler's body come during topwater plug season from September to October.  Fishing Safety Tip #2, please watch for other anglers when casting lures.  Clients get excited when they see Striper breaking the water surface and don't notice their backcast is close to fellow anglers!  We also get swimbait jig heads stuck in clients during November.  Lots of birds are working, Striper are surfacing, and clients try to cast a swimbait too far and too fast.
We prefer the string yank style with our own modifications.  We use a small wood handle to wrap the 80 lb braid around to pop the hook out.  Make sure the angler remains calm and follows directions.  Loop the braided line around the treble hook, then wrap it around the wood handle.  Let the angler push the eye of the treble hook down so the hook raises the skin.  Notice how I lay the angler's hand on the boat seat so he can relax.  I also like to make sure the client is looking away from the wood handle.  I always tell the angler I will pull on the count of three. 
Count to Three, Pull-on Two!
Once again make sure the client has pressure on the eye of the hook!  Now count to three out loud and pull very hard on two!  The hook pops out, and you can get the first aid kit out and put some antibiotic cream and band-aid.  Don't let a hook in the hand ruin a Lake Texoma Striper Trip!  If the hook is really deep you may have to try the Advance and Cut!  I keep sharp cutting pliers on the boat for this job!  Pretty simple, push the hook and barb through the skin.  Cut the barb off and pull out the hook!  Keep a first-aid kit on your boat and pinch down those barbs!  See you on the water!
About Author John Blasingame
Lake Texoma Fishing Guide John Blasingame owner-operator of Adventure Texoma Outdoors charter fishing service has been fishing the Striper Capital of the United States for over 25 years!  Captain Blasingame is the premier Artificial Lure only Lake Texoma Striper Guide and he fishes this Red River impoundment year round.  Lake Texoma Striper fishes great Winter, Spring, Summer, or Fall, so book your trip today!
Lake Texoma Fishing Guide John Blasingame
Corporate Office
132 Grandpappy Dr.
Denison TX 75020
PH 903-814-5566
john@adventuretexomaoutdoors.com
Contact: John Blasingame
MAP
Lake Texoma Striper Guide John Blasingame
Summary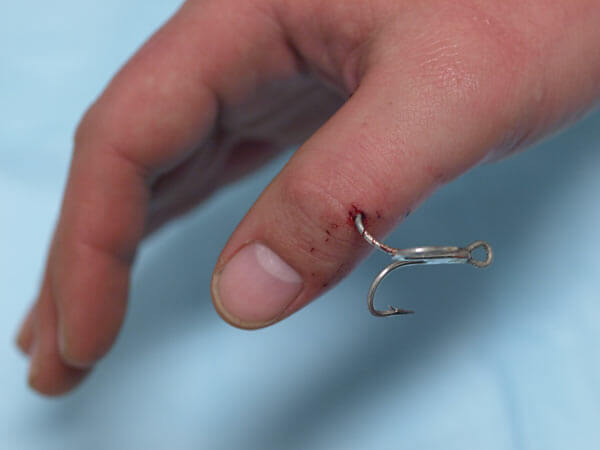 Article Name
Description
Learn how to safely remove a treble hook from the hand with Lake Texoma Fishing Guide John Blasingame
Author
Lake Texoma Fishing Guide John Blasingame
Publisher Name
Adventure Texoma Outdoors
Publisher Logo