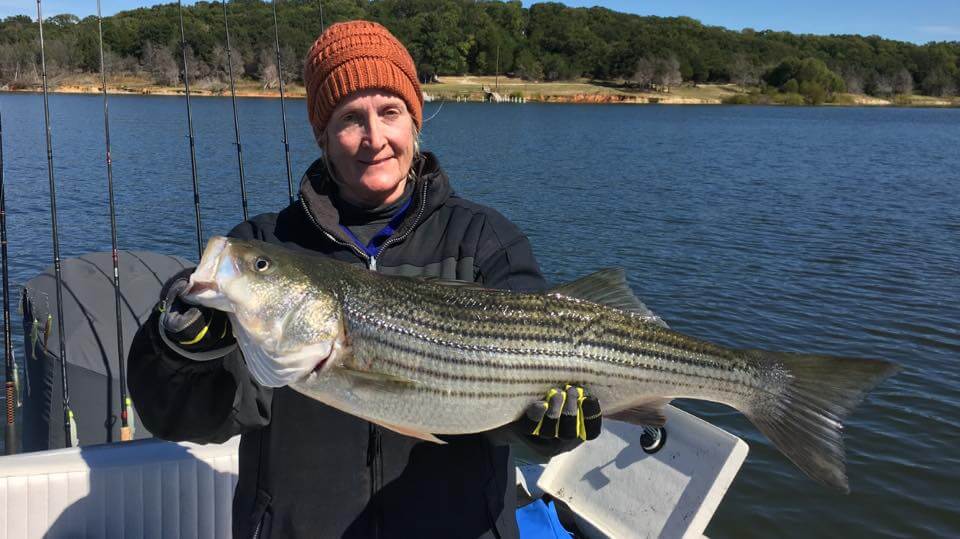 Striper Report Lake Texoma
The Striper Report on Lake Texoma is great.  We are catching lots of Striper, but the White Bass fishing on Texoma has been very good!  The striper report Lake Texoma is GREAT! The weather this time of year is awesome and so is the fishing on Lake Texoma. All days over the last couple weeks have limited and I'm getting lots of big fish too. I've been having to leave my big fish bite to go find box fish most days. I fished the Striper Challenge this week and placed 2nd for overall and for big fish.
Follow the Birds on Lake Texoma and Catch Striper
The birds are really starting to show up and they certainly help. Sometimes you just have to watch for the little things, like a splash or a few birds circling in an area. Then I use my graph to pinpoint them and it's fast action after that. I'm still using slabs for my big fish and swim baits are producing well in shallow waters, though I know topwater plugs are working well as well. I still have a couple weekend spots in November open and quite a few weekdays. The big fish bite this winter should be excellent so don't wait to book. It's been a great year and I know it's only gonna get better as the water temps drop. It's been a great couple weeks here on Beautiful Lake Texoma.   Lake Texoma striper guide John Blasingame posts on Facebook!  Please LIKE US!  For more information on Fishing Lake Texoma, follow this link, Striper Time with Lake Texoma Fishing Guide
The 411 on Lake Texoma White Bass
The Sand Bass or White Bass is the red head step child of Lake Texoma!  Never really targeted, but very fun to catch!  If you can't find Striper that are ready to eat, the White Bass is plentiful on Texoma!  White Bass reproduce between March and May each year in waters that range from 54 to 68 degrees Fahrenheit. They prefer to lay their eggs in moving streams but will also spawn in nearshore lake currents that get swept up by winds. Female White Bass can lay as many as a half million eggs.
White Bass Interesting Facts
The White Bass record for Lake Texoma; 3.41 lbs,  18.00 inches, caught  Feb 8, 1994, by Robert Blair
White Bass are related to Striped Bass, which has led some to call them "wipers";
huge schools of White Bass have been known to herd groups of baitfish toward the surface as they go into feeding frenzies;
White Bass have a sharp point on each gill cover, while Striped Bass have two;
and White Bass are the fifth most preferred species among licensed Texas anglers, according to the state's parks and wildlife foundation.
Lake Texoma Striper Fishing
Summary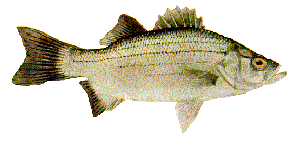 Article Name
Striper Report Lake Texoma
Description
White Bass fishing on Lake Texoma is great year round! Not only fun to catch but very good on the dinner table too!
Author
Publisher Name
Adventure Texoma Outdoors
Publisher Logo