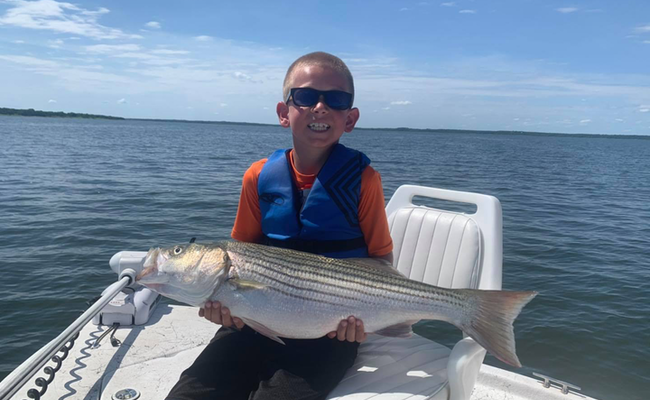 Lake Texoma Striper Fishing
Lake Texoma Fishing Trip Gift Certificates
Captain John Blasingame
Adventure Texoma Outdoors
Lake Texoma fishing guide has a great X-mas gift idea for all anglers and people shopping for anglers!  

It's that time of year everybody, and we have Lake Texoma Fishing Trip Gift Certificates!  Christmas is just around the corner and it can be hard to find something special for your loved ones. I can send you enough certificates so you can gift them to as many as you want to go on your trip and you will make memories that will last a lifetime. You don't have to battle the crowds and they'll get something they will really enjoy. Just message me or give me a call and I'll take care of the rest. We've b

een having a phenomenal year here on Beautiful Lake Texoma and this next year it should only get better. All of my trips but one has limited in the last two months and that one was close to a limit. Here are some recent pics of the last couple weeks. I'm still mostly catching my fish with slabs but the dead sticking is really starting to pick up.
Striper Fishing Guides Catch More Fish!
Birds are still helping to point the way but you can also find fish on structure with your graph. I still have a few weekdays left this month and lots of days open next month and so on. Winter fishing typically yields the biggest fish of the year. Don't be afraid of the cooler temps. Get out and come catch some big striped bass with yours truly. It's been a great couple weeks here on Beautiful Lake Texoma!  Lake Texoma Fishing Trip Gift Certificates are perfect for all the anglers on your list!  

Lake Texoma fishing is great, check out our 

Facebook Page!  Please LIKE US!
For more information on Fishing Lake Texoma, follow this link, Striper Time with Lake Texoma Fishing Guide
Summary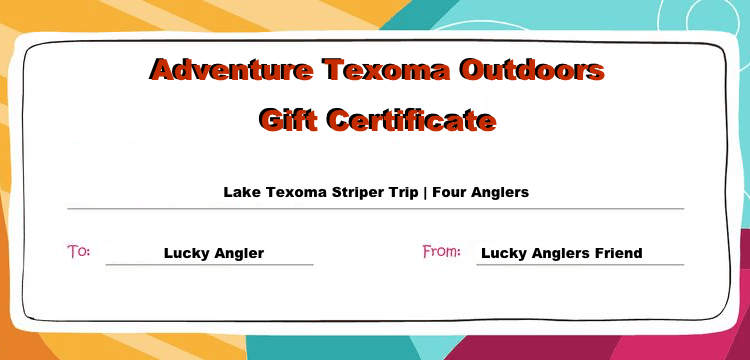 Article Name
Lake Texoma Fishing Trip Gift Certificates
Description
Get your angler the best Christmas gift ever! We sell gift certificates for your anglers at Xmas, buy one today!
Author
Publisher Name
Adventure Texoma Outdoors
Publisher Logo