Texoma Striper Guide John Blasingame
Join Texoma Striper Guide John Blasingame for an exciting artificial lure fishing trip today!  The Adventure Texoma Outdoors experience is action-packed and heart-pounding fun for the entire family!  Here are some Striper Fish Pictures of recent trips!  Join us today and experience the difference with Captain John Blasingame!
Texoma Striper Guide John Blasingame
Captain John Blasingame Striper Adventures
Captain John Blasingame knows there are many Texoma Striper Guides to choose from!  We work hard on every Lake Texoma Striper Trip to make sure our customers are happy!  Customer satisfaction is our number one goal, and our repeat business is huge!  You work hard for your money and we want to make sure our customers get a BIG Bang for the buck!  Our Lake Texoma Fishing Guide prices are a bargain!  Captain John Blasingame will continue to fish customers until they have had enough!  Adventure Texoma Outdoors does NOT limit out on boxfish and boat you back to the marina at 9 AM!  Lake Texoma guided fishing trips are awesome with Captain John Blasingame!  Making memories of a lifetime, one trip at a time!
Premier Lake Texoma Striper Guide John Blasingame
If you're interested in the outdoors, you probably already heard about Lake Texoma striper fishing. Fun and exciting, it's an adventure you won't forget, perfect for sharing with friends and family. And when you go with Lake Texoma's premier striper guide John Blasingame, you'll have the trip of a lifetime. Quite simply, we guarantee you'll catch fish-or your next trip is free. With almost 25 years of experience fishing Lake Texoma, and sixteen as a trusted striper guide for local tourists and fishing enthusiasts, Blasingame is "the" striper guide for the area. Licensed and insured, he'll provide an unforgettable day on the water for you and your companions, along with some of the best fishing in the United States!
Family Trips, Fishing Buddies, and Large Corporate Groups Depart Texoma Happy
Whether it's a family guided tour or corporate outing, we can accommodate your party on our 24 foot BlazerBay. With friendly instruction, a relaxed but professional attitude and always plenty of fish around, it's a great way to make memories with those you care about. Whether you're an old salt or a newcomer to the sport, Blasingame and his team make striper fishing on Lake Texoma a treat for all.
Lake Texoma Fishing
Texoma Striper Fishing
Lake Texoma fishing is fantastic!  Lake Texoma is one of the largest reservoirs in the United States, the 12th largest US Army Corps of Engineers' (USACE) lake, and the largest in USACE Tulsa District.  Lake Texoma is formed by Denison Dam on the Red River in Bryan County, Oklahoma, and Grayson County, Texas, about 726 miles (1,168 km) upstream from the mouth of the river. It is located at the confluence of the Red River and Washita Rivers. The damsite is approximately 5 miles (8.0 km) northwest of Denison, Texas, and 15 miles (24 km) southwest of Durant, Oklahoma. Lake Texoma is the most developed and most popular lake within the USACE Tulsa District, attracting approximately 6 million visitors a year.
Catch all the Lake Texoma Fish Species at my Dock!
Lake Texoma has several fish species and is the Striper Fishing Capital of the World!  The species include Striped Bass, White Bass, Black Bass, Spotted Bass, Smallmouth Bass, Crappie, Bluegill, Blue Catfish, and Channel Catfish!  Lake Texoma smallmouth fishing is highly underrated, so don't be shocked if we put two or three in the net!  Crappie fishing can be excellent while I clean your catch!  We are known to hang a big blue catfish too!  Please read our Lake Texoma Fishing Report for more information!
Texoma Striper Trip
Lake Texoma Striper Trip
We will meet at Grandpappy Point Marina and board my 24′ BlazerBay boat and hunt striped bass!  Our trips are family friendly, safe, and loads of fun when we find Big Texoma Striper!  We cast artificial lures 99% of the time and put Big Striped Bass in the box.  Make sure you pack some food, drinks, and sunblock!  Once we reach our limit, it's back to the marina!  We will clean, fillet, red meat, and pack your fish!  We love to eat Striper and White Bass! We get lots of questions on How To Cook Striper! Cooking striper is easy and we have a blog post on our favorites!  
Say NO to NASCAR Texoma Guides
We know there are many Lake Texoma Striper Guides, thanks for choosing the best Lake Texoma Fishing Guide, Captain John Blasingame!  Don't book a trip with Lake Texoma Fishing Guides that NASCAR you around the lake for a one hour trip!  The Adventure Texoma Outdoors Experience is heart pounding lure fishing for big striped bass!  Join Captain John Blasingame today!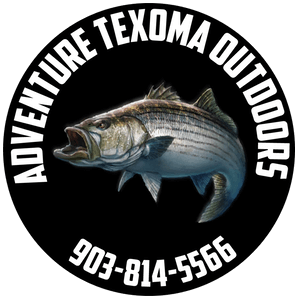 Adventure Texoma Outdoors
Texoma Striper Fishing with John Blasingame
Lake Texoma Fishing Guides are a dime a dozen!  If you are going to shell out your hard earned money, get the best bang for the buck with Adventure Texoma Outdoors!  Captain John Blasingame fishes year-round on Lake Texoma with artificial lures!
Summary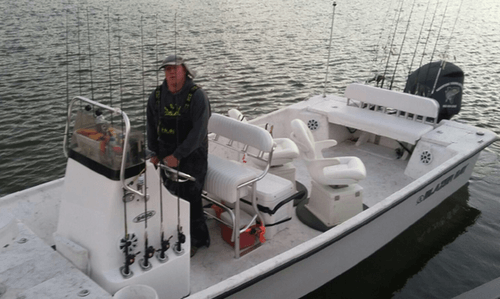 Article Name
Texoma Striper Guide John Blasingame
Description
Meet Captain John Blasingame, a Lake Texoma Striper Fishing Guide since 1999! John targets striper and white bass year-round on Lake Texoma!
Author
Publisher Name
Adventure Texoma Outdoors
Publisher Logo