Striper Fish Pictures
Fishing Lake Texoma
We love to post our Striper Fish Pictures from Lake Texoma on our website and social media!  We target Striped Bass year-round on Lake Texoma and hang some big fish!  Come join us and get your picture with a big Striped Bass!  Many anglers love fishing for striped bass.  For me, the hopes of hooking a huge striper have been an obsession for me since the 70's.  Over the years I've been fortunate to catch many big striped bass.  Striper Fish Pictures followed by a safe release, create a better Lake Texoma fishery!
Photo and Release
However, with each striper caught came an insatiable quest to catch another one. I release many bigger striper than I catch, that is the reality of recent regulations, and how I feel about the fish in my heart.  However, the plain truth is, not all of these big fish survive the/my release. Therein lies the problem within the sportfishing community… we love striped bass so much, that we're loving them to death.  Remeber to Catch, Photo, and release!  Keep the white bass for the hot grease!
Lake Tawakoni Striper Guide John Blasingame practices catch and release
Striper Fishing Lake Texoma, 

Catch, Photo, and Release
We are one of the few full time lure only striper guides on Lake Texoma.  We love to catch BIG Striper, but we also understand big fish make big baby fish!  We try to manage our fishery like we do our deer lease in West Texas.  Selective Harvesting of Striper on Lake Texoma is a must!  There is no reason to keep a Striper over 10 lbs!  We encourage anglers and our clients to Catch, Photo, and release all Striper over 10 lbs!  If you want to eat fish, Kill Whitey!  White Bass are made for hot grease!  Come fish with the Best Lake Texoma Fishing Guide, John Blasingame today!
Catch and Release Fishing Lake Texoma
Catch and release is a practice within recreational fishing intended as a technique of conservation. After capture, the fish are unhooked and returned to the water. Often, a fast measurement and weighing of the fish is worthwhile.  Not every fish is a "keeper." You may catch a fish that's under legal size or too big to fit in your cooler. You may land a magnificent trophy and decide to return it to the water so that you — or some other lucky angler — will have a chance to catch that fish again. Whatever your reasons for choosing live release, you want to give your fish the best possible chance of survival.
Catch and Release Tips
Set the hook quickly to reduce the likelihood that fish will swallow the bait.
Play and land fish as quickly as possible. Playing fish to exhaustion can harm the fish.
When fishing in deep water, bring fish in slowly to help it adjust to changing pressure.
Consider using barbless hooks.
Keep your release tools close by.
Minimize the time fish is out of the water (no longer than you can hold your breath.)
Leave fish in the water if you can and use a tool to remove the hook.
If possible, keep the fish from thrashing without using a net. If a net is required, use a rubber-mesh landing net instead of abrasive nylon.
Avoid removing the slime/mucus layer, which protects fish from parasites and infections.
Try to keep fish off the ground or floor of a boat.
Use a wet rag or glove, or wet hands before handling fish.
Turn fish on its back and cover its eyes to calm it.
Don't put your fingers in the eyes or gills.
Hook Removal and Letting Striped Bass Go
Use needle-nose pliers, hemostats, or a hook remover to remove the hook and protect your hands.
Back the hook out the opposite way it went in.
 Watch this video to learn how to remove a hook embedded deep within the fish.
For a larger fish in the water, slip a gaff around the leader and slide it to the hook. Lift the gaff upward while pulling downward on the leader.
Do not jerk or pop a leader to break it. This can injure vital organs in the fish.
Place fish in the water, gently supporting the mid-section and tail until it swims away.
Resuscitate an exhausted fish by moving it or facing it into the current, gently forcing water into the mouth and over the gills.
Watch the fish when released. If it doesn't swim away, recover it and try again.
Striper Fish Pictures followed by a safe release, create a better Lake Texoma fishery!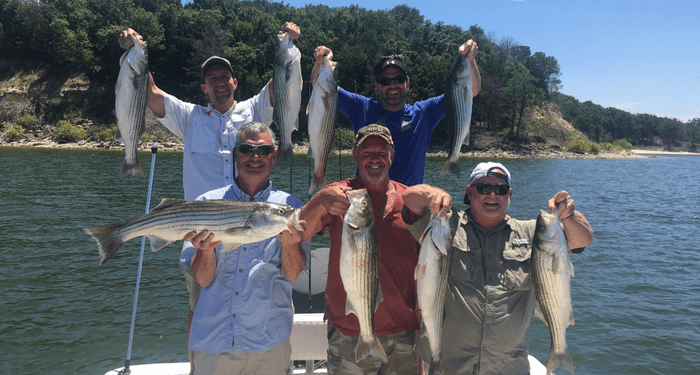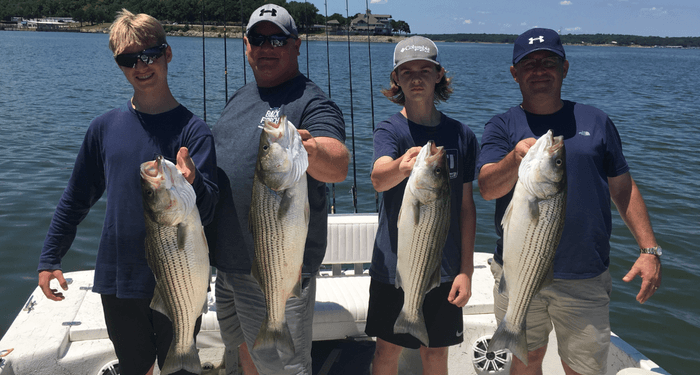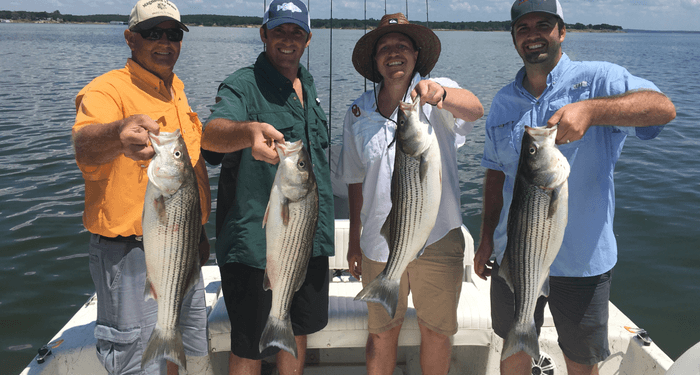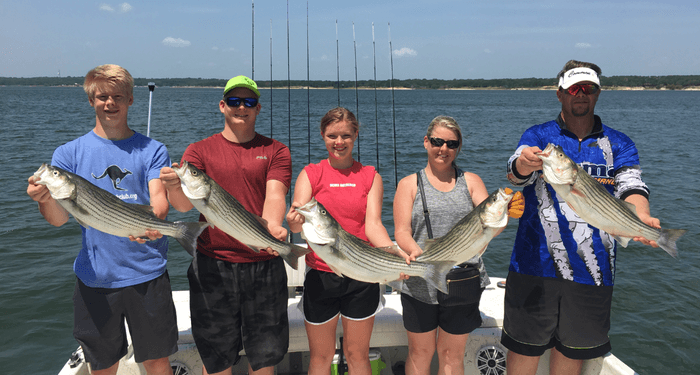 Lake Texoma Fishing Guide Captain John Blasingame
Fish with the BEST lake Texoma Striper Guide Today and get your BIG Striper Fish Pictures!
Summary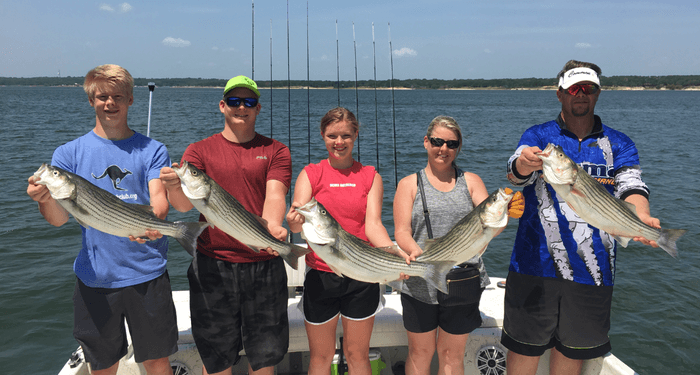 Article Name
Description
We enjoy taking Striper Fish pictures with our happy customers on Lake Texoma!
Author
Publisher Name
Adventure Texoma Outdoors
Publisher Logo